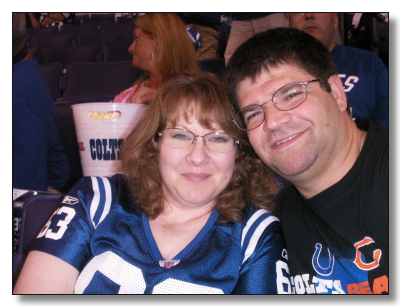 I was born and raised in Chicago, Illinois. I got into miniatures in 1995 when I walked into the home of my then future mother-in-law, Marion (who sadly passed away in March 2010). She had over 10 dollhouses that I couldn't keep my eyes off! I spent what seemed like hours peering into them, amazed at what she had created. I started to make a few pieces of furniture for her, and before I knew it, I wanted -- then bought -- a house of my own. Miniatures is a joint effort in our home; my husband Vince builds my kit houses and lately has created all my room boxes from scratch, being quite a talented woodworker. He also does all my wiring, the electronic genius that he is! I take care of decorating and furnishing them, most of the time building the furnishings myself.
I live on the west side of Indianapolis, Indiana USA. Vince and I have no children, and our 15 year old black and white cat, Moonlight, is our baby. My "real" job is working in a downtown Indianapolis law firm.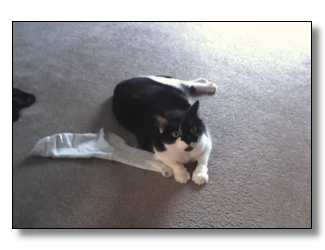 The hobby I enjoy most is miniatures, but I like to do all types of crafts including sewing, cross-stitch, card making, stamping, decorative wood painting... the list is really never-ending! And if I'm not working on crafts, I can be found tinkering on my computer. I adore music; my tastes really run the gamut from metal to classical depending on my mood. You'll find everything from Dokken, Def Leppard, Motley Crue, Motorhead, Metallica, Maroon 5, Bootsy Collins, Four80East, Dancing Fantasy, Jesse Cook, Down To The Bone and Rachmaninoff in my collection. I'm also a fan of our Indianapolis Colts football team. My favorite places on earth are Las Vegas, New York City, Paris and London. And no bio on me would ever be complete if I didn't mention my absolute love of shopping, especially when it comes to Sephora, Chanel, Ulta, Coach, Michal Negrin... and the list goes on and on and... ;)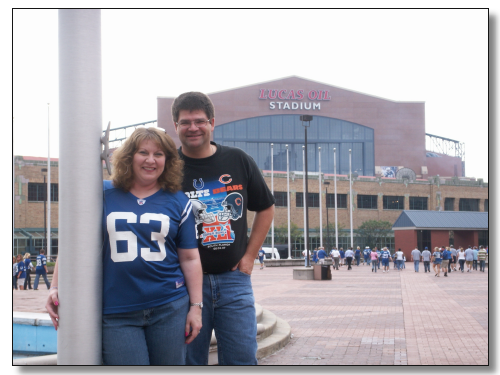 Vince and me in front of Lucas Oil Stadium, the home of the Indianapolis Colts.
Thank you for stopping by my web page; please email me if you are so inclined - I'd love to hear from you!